School is coming to a city or town near you!!!  In fact, my kids have already been in school for two weeks.  It is a long story, we have what is called "modified traditional".  Not year round for those who are curious.  8 week summer, 2 week fall break, 2 week holiday break, 2 week spring break.  It really does make for a nice school year, no one gets burned out, and summer doesn't go too long.
With that said, this is the time many people go shopping for desks.  I recently updated our family room with this Junque find Desk.  You can read all about this fun find HERE.
This desk I am sharing today was the VERY FIRST piece I painted when we moved to our current home, almost 9 year ago!!!!  I found this little French writing desk in a thrift store and fell in love.  I knew it would be perfect for the little space we had next to our refrigerator for the phone and miscellaneous family paperwork.
Fast forward 9 years and we needed something a little more substantial.  I still loved this desk, but it wasn't necessary to have two in the same living area.  I decided to give it a new life with my favorite "Alaska Tundra Green" from CeCe Caldwell's.
All that was needed to prep this desk was a thorough wipe down and a little sanding where the paint was uneven from children's handiwork.  I started with a thin base coat of Hershey Brown, then finished with a slightly thinned coat of Alaska Tundra Green.  After this dried, I sanded with a 320 grit sandpaper.  I used a dark wax in the corners and edges, then went over the entire piece with CeCe Caldwell's wax.  I buffed it to a high sheen, then added a little more depth with my favorite Modern Masters colorants.  I brushed it on in places where the wax hadn't darkened it enough, and rubbed a little here and a little there.
I was so pleased with the transformation, the desk looked like it finally had the paint finish it deserved.  It went to a lovely new home Saturday where hopefully it will live out its days serving another family.
Sharing La Petit Desk at these lovely parties: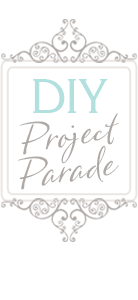 Related posts: