Can you believe it is 2013???  I wrote two checks yesterday, and my hand had to be retrained to write a new date!
The weather here is Sunny and Clear, but COLD!  (Well, I guess cold is relative), but anything below 50 is cold to me.  I thought I would take advantage of the clear skies to get this "Free to Me" table done in the beautiful weather.  Just in time for Paris Flea Market, starts tonight!
The top of this table was seriously loved by its previous owners, two small children.  Just needed a good sanding to smooth it out and it was good to go.  Here we are with "le before":
I wanted an industrial look, but warmed up with the base.  I started with a base coat of Ce Ce Caldwell's Smoky Mountain Blue.  Mine was good to the last drop.  Literally.  If you just keep adding a little water when you get to the bottom of the can, you can get every last drop out, and I did!
After this dried, I went over the next layer with a thin coat of CeCe's Seattle Mist.  Since it was so dry and clear, this dried very quickly too.  My next step was where the weathered wood begins.
I used a clear glaze medium, about 1 cup.  I added 1 drop of Modern Masters Burnt Umber and about 4 drops of Modern Masters Black colorant.  Stirred this very well, then brushed it on in sections, and went back over it, by "taking it off" with a cheese cloth scrunched up like a pompom.
When the glaze was complete, I spritzed the top of the table with water.  This produced the water stains look.  This took about an hour to dry.
I finished the piece by sealing it with one coat of CeCe Caldwell's Satin Finish, then one coat of CeCe's Clear Wax for extra durability.
The base of the table I painted in one of my favorites.  CeCe Caldwell's California Gold.  I sanded the final coat with a 320 grit, followed by a 220 grit for distressing.  I sealed the base with CeCe's clear wax.  Which my dried out fingernails and cuticles loved too!
It took a trip down to Paris Flea yesterday where it will be for sale for this weekend!  Let's hope it is Sunny Skies and someone will want a fair weathered table for their home.
The combinations on this look are endless  Grey skies where you live?  Make some weathered wood and add some California  Gold, it will seem like a beach day in no time.
Sharing my fair weather creation at these sunny parties: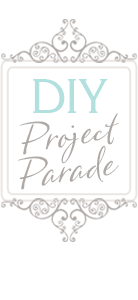 Related posts: