Happy Thursday friends.  I did this project a couple of weeks ago, and just now is it making "le debut" here.  This table was part of a whole bunch of furniture I bought from Emma's neighbor.  It was his Grandmother's, and it was filling his garage.  He gave me the lot of it for $50!  I felt like I was on a show where you win a storage container full of furniture for the lowest bid.
The table had some funky look to it.  Kind of like "bumpers" at the knees.  I was at a loss as to how to redoux it, until Emma suggested black and white, and instead of downplaying the knee knockers, highlight them!
The chairs were part of a several pieces of furniture that were free to me from a good friend.  The buffet that I made into an entertainment center can be seen HERE.
Here is le before, chair is camera shy.
I painted the top, and the legs in CeCe  Caldwell's Simply White.  I wanted a big contrast between black and white.  I painted the chairs and the knee knockers in CeCe Vermont Slate. 
Now for the fun part.  I chose two graphics from the Graphics fairy.  I printed them on Wax Paper and did the rub transfer method.  This is the cheapest, easiest way to get a transfer to furniture.  It comes off faded, so if you are looking for super crisp, then this isn't  your method.
I sanded the entire piece  in 320 grit sandpaper. Then used CeCe Caldwell's 1 00% clear wax to seal it. Let me tell you, you would be hard pressed to find a smoother surface than this one.  Cece Caldwell's paints sand so super fine, and when waxed, the surface is like butta!
I added black and white ticking to the chairs for the pads.  I wasn't sure this table would find the right owner too quickly.  It is "Unique" .  Last Paris Flea, I unloaded it from my car, it was in my space for not even 5 minutes and it SOLD!  That is my kind of happy ending.
I just hope the new owners don't have knees that are the same height as those big bumpers.
Linking up my knee knocking table with these fun parties:
Monday: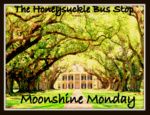 Tuesday:

Wednesday: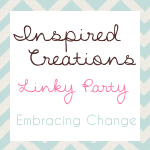 Friday:
Related posts: