Hamper in Distress! Distressed finish that is.  I was intrigued by this little faux looking cabinet I found several weeks ago at my local Goodwill.  I knew right away what it neeed.  One coat of CeCe Caldwell's Smokey Mountain Blue and some new knobs.
On first look, it was disguised as a little cabinet.  Upon closer inspection, I realized it was a nifty little hamper!  (The before picture went AWOL on moi).
My little hamper really needed just a quick fix.  One coat of Smokey Mountain. When this dried, I did a light sand with 320 on the top.  To make the distressing less distresing I opted for a wet distress method.  I simply used a damp rag and wiped the paint off where I wanted a distressed, weathered look.  There is no acrylic or latex, just Chalk and 2 kinds of clay in CeCe Caldwell's paints.  This makes it the ideal paint to manipulate with just water!
When the hamper had dried for 24 hours, I wanted to protect that finish with a hard wearing finish.  I chose CeCe Caldwell's Endurance (check my video here).  Now the hamper can get all the wipe downs it may need and it will not get further distressed.  Don't you think it was distressed enough?  Time to let it be.
This distressing story and the hamper will be making the rounds at these lovely parties: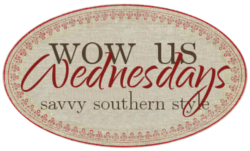 Related posts: