Cheap bookshelf makeovers are on a roll.
Cheap bookshelf makeovers are one of my favorite trash to treasure projects.  Its a box with some shelves.  No character, and can be found for a few dollars.  Or, maybe even around a dumpster.  I recently transformed another one of my junk bookshelves to jewel of a bookcase.
Here are some other bookshelf transformations I have shared.  My Blah Bookshelf to Ballards Knockoff and more recently, my Bookshelf makeover with bookpages!
Cheap bookshelf makeovers are truly a done in a day project.  You just need a little patience and imagination, but the options are endless.
Here is what you will need for this makeover:
Scrap wood for the top, or a piece of MDF
Scrap wood for bottom to fit dimensions of bottom of shelf
Cordless Drill and screwdriver
Wood screws
Gorilla Wood Glue
Square edge
Circular saw, or table saw for cutting a precise straight edge.  (Home Depot and Lowes have a large panel saw and cut pieces to size for you)
Small casters and screws to attach them
Scrap trim to cover ugly front and MDF on bottom
Paint of choice
Plenty of imagination and willingness to mess up and do a few things over.
I began with this  blah white melamine cheapy thing.
I started by adding a piece of MDF to the bottom, cut to the size of the bottom.  Once cut, I used Wood Screws to secure it to the base. Next I added the small casters.
For the top, I chose several pieces of scrap wood (again all dumpster finds)  that would fit together and make a rustic top.  Move them around until you find the right fit, like puzzle pieces.  I cut  the pieces to size that were too long.
I secured them to the top first with wood glue, then wood screws.
Next, I turned the bookshelf on it's back, measured and cut the scrap trim I had.  I used two different pieces of trim that were dumpster dive finds.  Measured and cut them to fit. This covered the MDF on the bottom and the ugly front of the bookshelf.
One note, adding a secure top and bottom also reinforces a wobbly, cheaply made bookshelf.  When finished, you will have a solid piece of furniture that will last for years.  All for practically nothing!
For the body of the shelving, I roughed up the finish a bit then painted the entire piece in  Cece Caldwell's Virginia Chestnut.  This is a gorgeous, rich brown color. 
When this dried, I painted the bookshelf in CeCe's Traverse City Cherry.  When dried, I sanded the entire piece with a 320 grit sand paper to give the piece a very soft finish. I sealed the entire bookshelf with my favorite sealer, CeCe Caldwell's Endurance.  A super hard clear coat, very low VOC, like a non yellowing polyurethane.  It is the easiest finish to apply.  You can see how to apply on my Video!
This bookshelf was supposed to be headed straight to Paris Flea Market in Livermore.   I broke my rule and decided I needed it!  Found the perfect spot for it, right next to my bench made entirely of Junque.

Never look at those ugly old bookshelves the same.  They can be given a new life, just use your imagination!
PS This post was originally published in November of 2013.
Sharing My Cheap bookshelf Makeover at these lovely parties: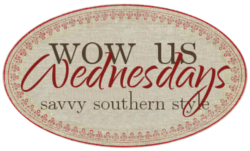 Related posts: